Ten Commandments Bracelet Perfect Gift For The Holidays!
Scroll Down For More Information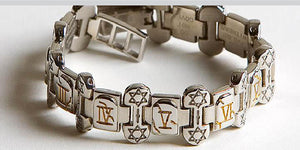 Unique Design
All ten tablets display carved numeral symbols, each laser filled in 18k gold. Each tablet is engraved on the reverse side reflecting each commandment.
Materials
Each bracelet is comprised of 22 precision-hinged-fit, high-quality, AAA surgical stainless links, which make this item durable, comfortable, hypoallergenic, elegant, and fitted with the unique, adjustable ladder clasp. Each tablet is laser filled in 18 karat gold.
FREE Shipping
We offer Free Shipping on all of our bracelets through US Mail delivered anywhere in the USA.
Perfect Gift
Amazing gift idea. Each bracelet comes inside a unique gift box.
"He proclaimed to you his covenant, which he commanded you to keep: the Ten Commandments, which he wrote on two tablets of stone."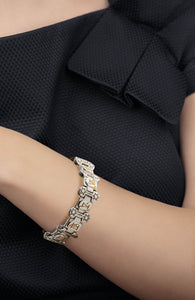 Extraordinary
Express your faith with the Ten Commandments bracelet.

The Ten Commandments are extremely important to suitably live your life. The first three commandments are about your relationship with God and the fourth to tenth commandments are about your relationship with other people.

The Ten Commandments are meant to help you live in a truly human way, to understand who you are and to stay close to God.
We are God's people, set apart to live according to God's ways.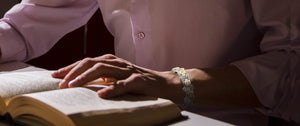 Classic Perfection
Each piece is made with the finest surgical steel with 18 karat gold inlays.
Tie them as symbols on your hands and bind them on your foreheads. - Deuteronomy 6:8
"My son received one as a gift for his bar mitzvah. It is a beautiful and detailed jewelry, and it also serves as a daily reminder of God's Word. Great gift for the holidays!"
Wow!

"Wow! That is all I can say. The Ten Commandment bracelet came today and it is awesome. Anyone who orders this will be well pleased with it. It fits me. It feels just great on my arm. The quality is beyond what I could have imagined from the picture. Wow! Awesome! That is how I describe it."

— 

Rev. Marilou Coins Sherwood Arkansas
Everything I Hoped For!

"I received my ten commandments bracelet today. I'm a particular kind of guy, and I must say that I'm completely satisfied. It is everything that I hoped it to be. In fact, I ordered a 2nd bracelet today for a very dear friend of mine."

— 

Larry
Obvious Beauty!

"Apart from their obvious beauty, you won't believe how it feels on your wrist! I started sleeping in mine because it was so comfortable that I kept forgetting it was on. This is designed with the best in form and function and is exceptional! Love it!!"

— 

Leslie Leonard Glesmann Windsor, Colorado